Question of berserk.99 (07.09.2015): Who was the cruelest pirate? And who was the fairest?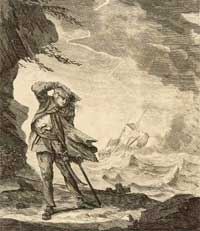 A: The cruelest pirate is undoubtedly Edward Low (1690-1724, 34 years old), know as Ned Low, followed by
Nau l'Olonnais
and
Edward Teach (Blackbeard)
. These are gratuitous violent pirates. Edward Low attached to a mast and cook burned the boat, cut an enemy captainís lips for "lying", and roasted them in his presence, etc.
The fairest is not an applicable question, because a pirate becomes a pirate because he will inevitably be looted or killed.
But if we speak of converted pirates, I can quote Captain James Misson who tried to found the free city of Libertalia or
Henry Morgan
who later became Governor of Jamaica.
There was also the pirate Edward England who took pity on his prisoners and wanted to save them from execution, but his crew was displeased and left captain England on the island of Mauritius.
© Photo: Capt Edward Low in ye Hurricane which He and All the Crew had Like to Perish'd by J Nicholls and James Basire,