Question of Anonymous (07.21.2015): I wonder how many men there were on a pirate ship. Thank you in advance!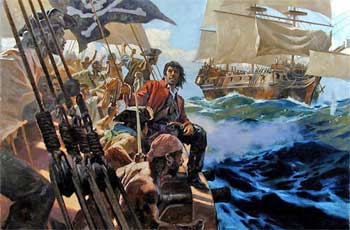 A: A: It depends on the size of the pirate ship. During spike ports there could be 200 pirates on
frigates
.
But when they hunted their victims (often merchantmen), there were between 30 to 75, often on a smaller ship, but light and fast, such as the
barque
,
sloop
or
schooner
.
Surprise and cunning were their main tactics. Once engaged boarding, they screamed to destabilize the opponent. They had tattoos on the body.
The pirate Blackbeard
cultivated his image of a fury monster. In battle he had a habit of hanging two burning torches under his hat to emit smoke and make the opponent believe that he was the devil from the underworld.