Question of Anonymous (11.18.2015): What is the nickname of Bartholomew Roberts?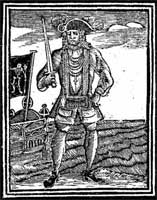 A: Bartholomew Roberts (1682 - February 10 1722), whose real name is John Roberts, the Black Baronet was British and one of the most famous pirates. He had several nicknames such as:
- Black Baronet,
- Portugese,
and his most famous nickname was
"The Sad Pirate".
This nickname came from the fact that Bartholomew Roberts did not tolerate excessive drinking because it was affecting combat efficiency. He drank just tea. He was always well dressed and mannered, clean shaven, and had established the famous code of pirates (the charter party).
Some historians believe that Bartholomew Roberts would be the famous Anne Bonny transvestite, having escaped hanging in 1720 by pleading her pregnancy ...