Question of Abyssa (11.16.2015): The story of "Pirate of the Caribbean" takes place in what year? Thank you.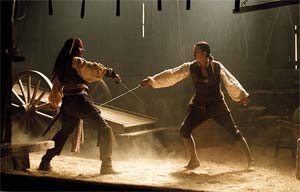 A: The year of the history of the "Pirates of the Caribbean" trilogy is not defined.
But it can roughly be deduced by reflecting on when it happened.
The English East India Company who is in pursuit of pirates officiated between 1600 and 1858 embodied by Lord Cutler Beckett is at war against Jack Sparrow!
Then the pirates of the Caribbean were working between 1560 and 1720, with the golden age of piracy ranging from 1640 to 1680.
And finally the legend of the Flying Dutchman from where we can see the appearance of Davy Jones in the second episode dates from 1665.
We can thus conclude that the story takes place between 1665 and 1720 :)