Question of M.R (11.02.2015): What's a sailor abandoned by its crew on a deserted island called?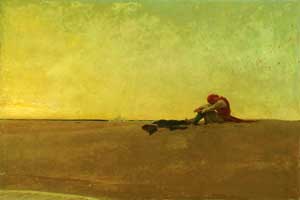 A: An abandoned sailor is called a "maroon" (from a verb). The dictionary states that "maroon: to put ashore and abandon on a deserted island or coast by way of punishment or the like, as was done by buccaneers.".
Attention this should not be confused with maroon (noun), which is a word of Caribbean origin concerning fugitive black slaves in the 17th and 18th centuries living in the West Indies and Guiana, especially in mountainous areas.
© Painting "Marooned" by Howard Pyle (1909)