Question of Levasseur, Barbossa & tiny corsair (04.14.2016): For some time I've been wanting to know what makes the rudder turn. Can you help me?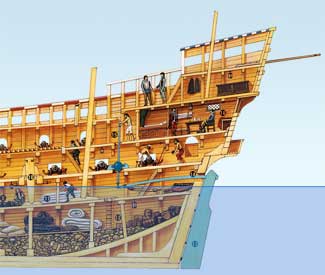 A: An example of rudder on
a galleon
dating back to the seventeenth century. We can see in blue the whole mechanism articulating the helm.
The control bar or manual (figure 15) is operated by a man holding the position of helmsman.
Between 14 and 15 the "ball" is called pintle.
The movement of the rod actuates the drawbar (14), which in turn rotates the rudder on its hinges (13).
We can see that the helmsman directing the rudder was inside the ship and could not see where he was heading. He followed the rudder maneuver orders of a second captain who was on the quarterdeck of the ship.
The wheel was created in the early eighteenth century.
© Illustration by Grisewood & Dempsey Ltd, London