Question of Lord Nelson (04.20.2016): How to keep the sails on the masts?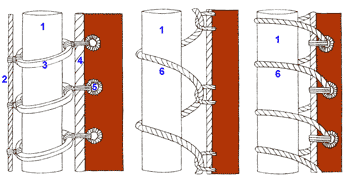 A: On many types of ships sails are adjusted to the yards, which are pieces of wood placed across the mast.
The exception to this is the Bermuda sail, the mainsail and sail sprit that are attached to the mast.
(Fasteners sails). In all three cases if one goes into detail, the sail is attached via rocambeau rings (3) (or rings of sizes according to the sails) that are stacked on the mast (1), or the mast rope (6) is wound in a spiral around the mast.
Halyard (2) is used for hoisting the sail down the mast, also raises the veil enhanced by its rope (4) sewn on its sides, and is attached by its Eyes-coats (5).
© Photo Boats, Gründ editions