Question of BlackMath (04.11.2016): Did Captain Hector Barbossa from "Pirates of the Caribbean" really exist?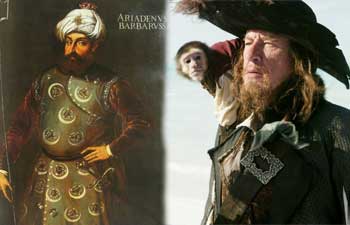 A: Captain Barbossa and Captain Blackheart were inspired by the pirate Khair Eddin Pasha (1476-1546), more commonly known as Barbarossa.
His Turkish name: Barbaros Hayreddin (Hayrettin) Paşa or Hızır Hayreddin (Hayrettin) Paşa, born Khizr or Khidr, was an Ottoman admiral of the fleet who was born in the island of Midilli (Lesbos) and died in Constantinople (Istanbul), the Ottoman capital.
Barbarossa's naval victories secured Ottoman dominance over the Mediterranean during the mid 16th century, from the Battle of Preveza in 1538 until the Battle of Lepanto in 1571.