Question of A legend (03.22.2016): What is the black spot?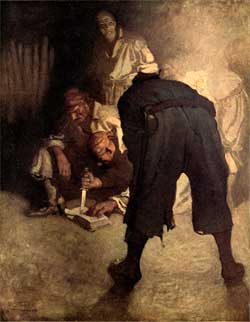 A: The Black Spot is a literary device invented by
Robert Louis Stevenson
, author of
the novel Treasure Island
.
In the book pirates are presented with a "black spot" to officially pronounce a verdict of guilt or judgment. It consists of a circular piece of paper or card with one side blackened and the other side bearing a message and placed in the hand of the accused.
© The black spot prepared by pirates from the book Treasure Island by Robert Louis Stevenson