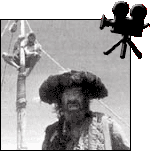 Archives of pirates movies



Previous movies:
Pirates of the caribbean: At World's End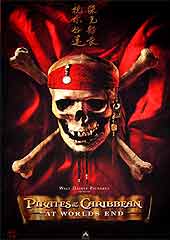 Pirates of the caribbean is a trilogy, the third movie released date is 23 may 2007 in USA (on summer in France) and the name is: At World's End. The second end third movie are simultaneous turned.
Infos:
- The actor Chow Yun-Fat - fans of John Woo movies known well - join the casting of Pirates of the Caribbean 3 and be the chinese Captain Sao Feng, a famous pirate who play a important role in this third episode.
- The guitarist Keith Richards (Rolling Stones) have a small role, captain Jack Sparrow's father
» Discover the trailer of Pirates of the caribbean: At World's End on monday, March 19th in Yahoo!




Here's a great gallery!


Johnny Depp
alias
Jack Sparrow

Orlando Bloom
alias
Will Turner

Keira Knightley
alias
Elizabeth Swann

Geoffrey Rush
alias
Barbossa

Chow Yun-Fat
alias
capitaine Sao Feng
Synopsis

In the follow-up to the record-breaking smash 2006 hit PIRATES OF THE CARIBBEAN: DEAD MAN'S CHEST, we find our heroes Will Turner (Orlando Bloom), Elizabeth Swann (Keira Knightley) allied with Captain Barbossa (Geoffrey Rush) in a desperate quest to free Captain Jack Sparrow (Johnny Depp) from his mind-bending trap in Davy Jones' locker – while the terrifying ghost ship, The Flying Dutchman and Davy Jones, under the control of the East India Trading Company, wreaks havoc across the Seven Seas. Navigating through treachery, betrayal and wild waters, they must forge their way to exotic Singapore and confront the cunning Chinese Pirate Sao Feng (Chow Yun-Fat). Now headed beyond the very ends of the earth, each must ultimately choose a side in a final, titanic battle – as not only their lives and fortunes, but the entire future of the freedom-loving Pirate way, hangs in the balance.






L'Île Aux Trésors
French movie directed by Alain Berberian, freely adapted from Robert Louis Stevenson's book.
Genre: Adventure, comedy. Runtime : 100mins. Release date: 31th january 2007.
Release date of DVD (in France): Autumn 2007. Contains making-of 26mn.
With Gérard Jugnot, Alice Taglioni, Jean-Paul Rouve and Vincent Rottiers.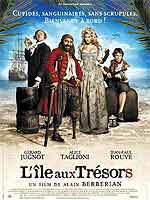 » Clic here to view making-of "L'Île aux Trésors" (french)
» More info about this movie in Allociné (french)
» official site (french)



Photo galery of the movie " l'île aux trésors "










Pirates of the caribbean: Dead Man's Chest

American movie (2005) directed by Gore Verbinski.
Adventure, Action, Thriller, Fantasy. Runtime: 150mins. Release date: 06/07/2006
With Johnny Depp, Orlando Bloom and Keira Knightley.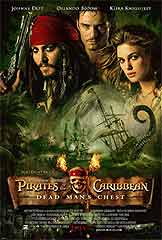 In the second epic installment in the Pirates of the Caribbean saga, Captain Jack Sparrow is caught up in another tangled web of supernatural intrigue. Although the curse of the Black Pearl has been lifted, an even more terrifying threat confronts them. Jack owes a blood debt to Davy Jones, who captains the ghostly Flying Dutchman and unless Jack figures a cunning way out of this pact, he will be cursed to an afterlife of eternal servitude and damnation in the service of Jones...






L'Ile de Black Mór



French movie directed by Jean-François Laguionie
Animation. Runtime: 65mins.
With Taric Mehani, Agathe Schumacher, Jean-Paul Roussillon, Jean-Francois Derec, Yanecko Romba...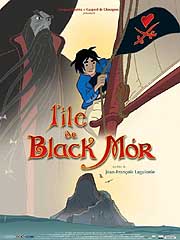 Kid, a 15-year-old hard laborer, steals a map that promises to reveal the location of the notorious pirate Black Mor's treasure. Together with his crew -- MacGregor, Beanpole, Taka and Jim the monkey -- Kid procures a vessel and sets out to sea.





Pirates of the Caribbean: The Curse of the Black Pearl



American movie (2003) directed by Gore Verbinski.
Adventure, Action, Thriller, Fantasy. Runtime: 143mins. Release date: 07/09/2003
With Johnny Depp, Geoffrey Rush, Orlando Bloom, Keira Knightley, Jack Davenport, ...


Clic on pictures to enlarged them

A tale of adventure set during the 17th Century in the Caribbean Sea. For the roguish yet charming Captain Jack Sparrow, the crystalline waters of the Caribbean, like the high seas the world over, present a vast playground where adventure and mystery abound. But Jack's idyllic life capsizes after his nemesis, the wily Captain Barbossa, steals his ship, the Black Pearl, and later attacks the town of Port Royal, kidnapping the Governor's beautiful daughter, Elizabeth Swann. Elizabeth's childhood friend, Will Turner, joins forces with Jack to commandeer the fastest ship in the British fleet, the HMS Interceptor, in a gallant attempt to rescue her and recapture the Black Pearl. The duo and their crew are pursued by Elizabeth's betrothed, the debonair, ambitious Commodore Norrington, aboard the HMS dauntless. Unbeknownst to Will, there is a curse that has doomed Barbossa and his crew to live forever as the undead--when exposed to moonlight, they are exposed to living skeletons. The curse they carry can be broken, only if a once-plundered treasure is restored.
Click here to see release date of next movies and a list of 120 movies.

Made with ♥ by Alain Decayeux - Copyright © 2006-2021 - ALL RIGHT RESERVED - Site map ~

French version -